Over 1000 visitors for 'WDYTWW?' Exhibition
Welwyn Garden City Heritage Trust displayed some of the material gathered during the 'Where Do You Think We Worked?' project in an exhibition, which ran from 17th - 23rd July. The show was held in the old Bookshop unit at the Howard Centre thanks to the support of the centre management.
'We were delighted to have had over 1,000 visitors' said Project Manager Tony Skottowe. 'Many of them were sorry the show was not up for a longer period so that they could make a return visit and bring friends or family who had worked in WGC for various different companies'.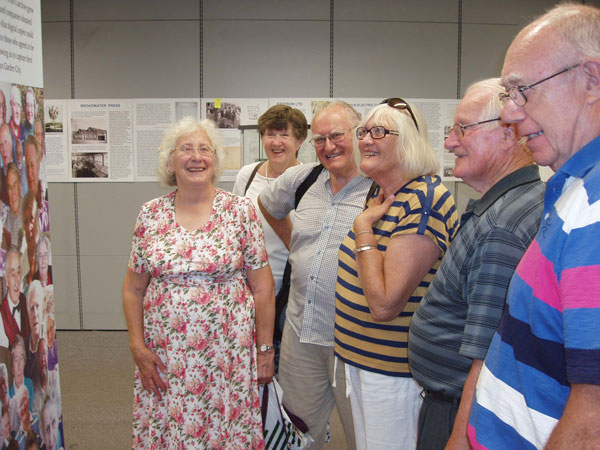 Funded by the Heritage Lottery Fund (HLF) the project set out to collect information, materials and oral memories of the early days of the industrial and retail development of the town. Over 180 different companies operated in the town between 1920 and 1960, a significant number from overseas. New products, techniques and approaches to the treatment of workers were a feature of many of these companies and examples of these could be seen in the exhibits.
A major element of the project was the participation of local schools. Harwood Hill School Year 3 pupils contributed work on Welwyn Builders Ltd and the Welwyn Dairies. Class 4 from St. John's Primary School, Lemsford made a tour of the industrial area of WGC (they can be seen below at WGC Library looking at maps and other material held in the Local Studies Collection before setting off on their guided tour with local historian Angela Eserin) and Applecroft School Year 6 pupils undertook an extended home learning task investigating the effects of World War II on the companies operating at that time.
Sherrardswood School looked at repeat patterns for textiles produced by Cresta Silks then came up with their own contemporary designs (Cresta Silks founder Tom Heron had been Chairman of the Governors of Sherrardswood School for many years). Onslow St Audrey's School's Heritage Group investigated the Welwyn Film Studios, these findings were then incorporated into the documentary film 'A Little Hollywood' made by three film students from Oaklands College. Fashion students from Oaklands College were given a talk by Dr Geoffrey Duffield on corsetry and learned about Barcley Corsets Ltd, which had its factory in WGC.
One highlight of the exhibition was the visit of the project's oldest contributor Mr William Leslie Jubb (102 years). Having worked for several companies including Skarsten Scrapers Ltd, Shredded Wheat & ICI, Mr Jubb kindly lent the Trust his personal diaries dating from the late 1920s to the 1960s along with letters and other documents. He is pictured below with a Murphy Radio blueprint that he drew when working for the company. It was immensely gratifying that so many of those who had contributed their memories, photographs or artefacts to the project took the trouble to come in and view the show.
Lord Salisbury called by and spent almost an hour touring the exhibition, chatting with Trustees (he is pictured below 2nd from right) and project co-ordinators Virginia Simpson and Vanessa Godfrey. Throughout the week visitors were heard to exclaim such things as, "That's my mum in that photo", "I remember working there with Bert" or "My grandfather is mentioned in this document!" Visitors were encouraged to add to or amend the information on display, enabling the Trust to learn even more about WGC's industrial heritage.
back to top